Tactical Awareness Group
Staff Bios
Gary N. Berry, President of T.A.G.



Gary Berry, President of Tactical Awareness Group, Inc. (TAG), offers his clients the benefits of more than 40 years of professional experience and technical field exposure as an instructor, trainer and criminal investigator in federal, state and local law enforcement. After 26 years of federal service as a criminal investigator, Mr. Berry retired as the Acting Director, U.S. Department of Housing and Urban Development, Protective Services Division. As Acting Director, Mr. Berry oversaw the daily operations for the protection of the Secretary and Deputy Secretary of the U.S. Department of Housing and Urban Development and their families, both domestically and internationally. Mr. Berry's areas of experience include private and corporate security, protection against danger and loss, as well as personal and environmental safety for high profile individuals at the federal, state and local levels. Mr. Berry's diverse background in criminal investigations, undercover operations, crowd management, and dignitary and high-profile protection is balanced with an exceptional skill set that ensures personal and environmental safety. Mr. Berry is proficient in criminal and civil law and procedure, enforcement operations, physical techniques, and technical equipment. He is recognized as a specialist in his field and is consulted and retained to provide expert testimony on behalf of law enforcement agencies in the areas of "use or force" and undercover operations.

Mr. Berry possesses numerous instructor accreditations from federal, state and local law enforcement agencies. He holds instructor/trainer certification from the Peace Officers Training Academy (POTA) in London, Ohio, which is accredited by the Commission on Accreditation for Law Enforcement Agencies and is acclaimed as one of the best law enforcement training institutions in the nation. Mr. Berry is also certified as an instructor at the Federal Law Enforcement Training Center (FLETC), now a division of the Department of Homeland Security, in Glynco, Georgia. FLETC specializes in providing expert training and technology-based learning, including simulation and modeling, to enhance existing training delivery systems and methodologies.

Mr. Berry has been a supervisor at POTA and continues to provide instruction in advanced defensive unarmed tactics, batons, defensive driving, Ohio liquor laws, vice drug identification, and in undercover operations. He has trained over 5,000 state, county and local officers for the Ohio Attorney General's Office. Mr. Berry is also a former senior instructor and trainer at FLETC and periodically provides course development and instruction in unarmed defensive tactics, close quarter combat, extendable baton, PR-24 baton, handcuffing, vehicle stops and extractions, crime scene investigations, fingerprint classifications, safety and survival, drug identification, sequential drug testing, and undercover operations. Mr. Berry has trained more than 8,000 federal law enforcement officers attending the agency. In collaboration with other TAG experts, Mr. Berry designs courses in executive protection and undercover operations.

As a specialized law enforcement instructor, Mr. Berry customizes courses and services to cater to individual client needs, inclusive of executive and high-profile personal protection services. His services not only incorporate industry standards of personal safety presented in a number of scenarios, but also implement techniques and methodologies to ensure personal safety and protection. Noteworthy among his courses is the "Street Simulation Tactics" course which he developed to address individual safety of auditors employed by the Office of the Inspector General for Audit in the U.S. Department of Housing and Urban Development. Since its creation, Street Simulation Tactics has been tailored to accommodate the ever evolving civilian/corporate population. Mr. Berry's clients currently include companies in real estate, sporting events, celebrity/high-profile protective services, and others who need crowd control for large populations.

Mr. Berry's extensive experience and field expertise ensures that clients benefit from a high level of professionally designed and carefully implemented intelligence measures that enhance an environment of protection and precaution from hostile acts or influences.

Other Certifications:
Executive Protection Instructor/Trainer (certified by various agencies, including State of Ohio, U.S. Secret Service, FBI, U.S. Marshals, and Tactical Awareness Group Inc. – Columbus, Ohio)
Tactical Entry Operations Instructor/Trainer (certified by U.S. Drug Enforcement Administration – Quantico, Virginia)
Extendable Baton and PR-24 standard and extendable baton Instructor/Trainer
Simunition Supervisor/Trainer (certified by Simunition – Avon, Connecticut)
Close Quarter Combat Instructor/Trainer (certified by Metropolitan Police Self Defense Institute – Chicago Heights, Illinois)
Oleoresin Capsicum Aerosol Spray Instructor/Trainer (certified by Law Enforcement Concepts Inc. – San Diego, California and Dayton, Ohio)
Tactical Simulation Instructor/Trainer (certified by Tactical Awareness Group, Inc. –Columbus, Ohio)
8th Degree Black Belt in Shorin-Ruy Karate
2nd Degree Black Belt in Ha kyu-Ryu JuJitsu
1st Degree Black Belt in Kodokan Judo
Viet Nam veteran USMC
---
Anita Dickens
Anita F. Dickens is a retired Federal Bureau of Investigation Supervisory Special Agent with over 26 years of law enforcement experience. Ms. Dickens began her career in 1984, correlating crime statistics for the Bureau's Uniform Crime Reports, a yearly compilation of crime statistics for the United States. In 1986, Ms. Dickens earned a promotion to the position of Surveillance Specialist, serving the Washington DC office of the FBI. In 1989, she became an FBI Agent assigned to the Chicago office. Ms. Dickens has a diverse investigative background, having worked a number of federal violations, to include bank robbery, crowd management, counterintelligence, counterterrorism and white-collar crime. Ms. Dickens was assigned to the New Orleans Field Office in 1995. During her time there, in addition to her primary responsibilities as the Regional Applicant Recruiter, she also assisted the Events Coordinator with event management and crowd control at the New Orleans Superdome. She was promoted to Supervisory Special Agent and transfer to FBI Headquarters, Washington DC, in 1998.
During her time at FBIHQ, Ms. Dickens worked as Program Manager of the "Key Assets" Program. This program assisted law enforcement nationwide in identifying and protecting critical public infrastructures such as water and power. Upon her transfer to the Inspection Division as an Assistant Inspector, she conducted internal compliance audits of FBI programs in field offices across the country. As the Career Officer for the FBI's Security Division, Ms. Dickens significantly advanced the FBI's Security Officer Program, rewriting the job description, personally assessing applicants and creating the Security Officer's Advisory Committee. Promoted to Unit Chief of the newly formed Continuing Education and Professional Development Unit, Ms. Dickens was responsible for creating and implementing development opportunities for the FBI Counterterrorism Program, both across the United States and in collaboration with its foreign allies.
In 2007, Ms. Dickens transferred to the Houston Field Office, where she served as the Counterterrorism Program Coordinator and as an Intelligence Squad Supervisor until her retirement in 2011. Ms. Dickens is a graduate of North Carolina State University and the Kellogg School of Business "Navigating Strategic Change" Certificate Program. She is FBI certified in personnel security and suitability adjudication.
---


Jimmy Cupp
Jimmy Cupp is a recently retired Special Agent with the U. S. Treasury Department after thirty years of Federal Government service. Mr. Cupp began his career in 1974 as a police officer in Washington, D.C. He transferred as a Special Agent to the Office of Inspector General, U. S. Department of Agriculture, in 1977. He transferred as an Inspector/Special Agent to the Internal Revenue Service, U. S. Treasury Department in 1978 and retired in 2005. During his career, he served numerous details to the Federal Law Enforcement Training Center as an instructor for new Special Agents in the Criminal Investigator School and for advanced agency training. He was instrumental in the formation and implication of the undercover training program for the Internal Revenue Service and the Inspector General Academy. He is regarded as a subject matter expert in undercover operations and techniques due to his training and experience in successful undercover operations. He is a firearms instructor, armour, and expert with the handgun, shotgun, and rifle. He is currently a contract firearms instructor for Homeland Security in the training of Federal Flight Deck Officers. He is an expert in employee corruption internal investigations. He has been an Adjunct Instructor for Eastern Kentucky University in Law Enforcement and Loss Prevention.

Mr. Cupp received his Bachelor of Science in Law Enforcement from Eastern Kentucky University, and a Master of Science in Justice Administration from the University of Louisville.

He is a member of the Federal Law Enforcement Officers Association and American Society of Industrial Security.

---


Dr. Ayo Maria Casey Gooden
Dr. Ayo Maria Casey Gooden provides individual, couples, and family therapy for firefighters and law enforcement personnel (including recruits, inactive and retired) and their families. Dr Gooden provides debriefing for individuals and groups to address shootings, attacks and other incidents that occur in the line of duty and the continuing effects of trauma experienced due to daily exposure to hostile/potentially hostile and dangerous/life-threatening environments or situations that create stress due to the need to always be ready for the unexpected. Dr. Ayo addresses Posttraumatic Stress Disorder (PTSD) and the effects of being a family member of someone who is a firefighter or who works in law enforcement and is experiencing PTSD and other stress related disorders including, poor impulse control (anger), anxiety and depression. Dr. Gooden addresses the stressors related to work issues such as domestic violence, child abuse, suicides, homicides, assaults, rapes, and other violent crimes. Dr. Gooden provides a confidential space to share personal experiences, related to work (such as the use of deadly force) and home (including the fears family members may have for the safety of their loved one), in a safe and non-judgmental environment. Dr. Ayo is also an Adjunct Professor at Lincoln University, PA (General Psychology, Abnormal Psychology, Psychological Assessment, and Race Ethnicity and Health), a consultant, program evaluator, speaker, researcher, grant writer, and author. She is also focusing on using movies to educate and create healthy images.

All sessions are confidential. More information regarding Dr. Ayo Maria Gooden may be found on her Web site at www.doctorayo.com

Credentials Dr. Ayo Maria Casey Gooden is a Licensed Psychologist in Pennsylvania. Dr. Ayo, as she prefers to be called, is also a Board Certified African Centered/Black Psychologist, Diplomate and Fellow. Prior to moving to Pennsylvania, Dr. Ayo was a Licensed Psychologist in Kentucky and a Licensed Professional Clinical Counselor in Ohio. She earned her Ph.D. and M.A. in Clinical Psychology from the University of Cincinnati, Ohio. Her B.A. was earned in Psychology from Lincoln University in Pennsylvania.

---
Ben C. Long
Ben C. Long, a former U.S. Park Police SWAT Counter Sniper/Firearms Instructor, and is currently a federal agent. Protective Services is the unit responsible for the safety and protection of the Office of The Secretary/Deputy Secretary of HUD and any other dignitaries as assigned by the White House. With a specialty in crowd management.
Prior to becoming the Director of PSD, Mr. Long served 16 years as a Officer, and Sergeant, for the "Oldest Uniformed Federal Police Department" in the country, The U.S. Park Police, Washington DC.
Mr. Long initiated his law enforcement career in 1987 after serving four (4) years with the United States Marine Corps (Military Police). A graduated of the FLETC 21 week basic and advance school, Mr. Long embarked on a busy yet rewarding career with USPP. He started out as a patrol office in Southeast Washington, DC (Anacostia Station). At the Anacostia Station, Mr. Long was 1989 Officer of the year, a direct result from accumulating over 140 arrest in the year, recovering a total of 1.5 million dollars worth of stolen vehicles, and after being involved in a critical incident that resulted in the life of one wanted suspect who attempted to take Mr. Long's life in a high speed vehicle pursuit after several shots were fired.
Mr. Long was selected to join the USPP elite SWAT team in 1990. On the SWAT team, Mr. Long was country's first Counter Sniper trained to do was is now know as "medical remote assessment across the barricade", a procedure used to advise the teams command element the medical condition of the hostage in a barricade or other hostile environments through the spotter or his own rifle scope.
Mr. Long is also a Counter Narcotics Tactical Operations Medical Support (CONTOMS) trained EMT-Tactical Medic and Faculty Instructor for the Casualty Care Research Center, Bethesda Naval Hospital.
Mr. Long is a graduated of the FBI Basic and Advanced Sniper Schools, at Quantico, VA., the Baltimore County Police Sniper School, and the USMC Scout Sniper Instructor School, also in Quantico, VA. He and his Spotter were the first "northern team" to compete in the now famous "Sniper Craft" sniper competition in Florida, and now California. The unit placed a respectable 5th place in the taxing competition that is represented by teams from the Navy Seals, Army Green Berets, to police teams from LAPD SWAT and Miami-Dade SWAT.
Mr. Long is married and has three children, ages ranging from 15-25. An avid home audio enthusiast, Mr. Long spends his off time "tweaking" his two home theaters.
---


Michael Egan
Michael Egan started career with the government in 1986 with the Defense Investigative Service, Santa Ana, CA. In 1990, he was hired by the Coast Guard Investigative Service (formally Coast Guard Investigations), Long Beach, CA. During this period, he served as a street agent, Assistant Special Agent in Charge, and Resident Agent in Charge. In 1997, he was transferred to the Federal Law Enforcement Training Center, Glynco, GA. He was a senior instructor for three years in the Enforcement Operations Division as well as being the Agency Representative. In 1999, he was hired by the United States Postal Service Office of Inspector General. He is currently one of their agency representatives. He currently works at the Inspector General Criminal Investigator Academy at FLETC and teaches Use of Force, Defensive Tactics, Expandable Baton, Firearms. Michael serves as the Undercover Operations Course Coordinator for the academy.

Michael has an Associates degree in Biology; a Bachelor's Degree in Psychology; and a Master's Degree in Psychology from Pepperdine University, Malibu, CA.

He is currently a member of:
International Law Enforcement Educators and Trainers Association
American Society for Law Enforcement Training
Narcotic Enforcement Officers Association
Federal Law Enforcement Officers Association
---


Cpt. Brian C. Smith
Cpt. Brian C. Smith joined the Chicago Heights Police Department in 1978 and served in Patrol Division, Investigations, Range Master and currently serving as Commander of Training and the Special Operations Unit. Also, services Training Director for Steiner Security Services in Chicago.

Captain Smith formed, trained and commanded the first Special Operations Unit which started in 1995 a position which he still holds, which also is utilized to assist other Agencies in the surrounding metropolitan area of Chicago. This unit also assisted local, state and federal agencies in street gang and Narcotic suppression. He has trained approximately 6000 personnel in all levels of law enforcement on topics such as Tactical Team Operations, Defensive Tactics, Firearms and Officer Survival. He also served as a guest instructor at the Ohio Peace Officers Academy, Cook County Sheriff's Academy and several annual law enforcement training conferences.

Captain Smith has published approximately 45 articles on police training related that has appeared in publications such as SWAT, Combat Handguns, Gun & Weapons for Law Enforcement, Police Times and American Police Beat magazines.

Captain Smith has earned an Associates Degree in Law Enforcement from The Thornton Community College in South Holland, IL, a graduate of the Chicago Police Academy, and graduated from the 184th session of the FBI National Academy. He is a certified Law Enforcement Trainer by American Society of Law Enforcement Training and chairman of the Police Survival Tactics Committee of the American Federation of Police.

---
William E. McDonald (Mac)
Mr. McDonald began his law enforcement career in 1966 as an Air Force security policeman which included a tour of duty at Tan Son Nhut A.F.B, Saigon R.V.N. serving with the 377th Combat Security Police Squadron during the TET offensive in 1967 thru 1968.
He joined the Columbus Ohio Police Department in 1970 until leaving the department in 1972 to join an elite undercover anti-drug force entitled Multi-State U.N.I.T. (Undercover Narcotics and Intelligence Technicians), headed by the Former Columbus Police Chief Dwight Joseph Senior. Mr. McDonald worked the Tri-State area of Ohio, Kentucky and West Virginia with Mr. Berry on numerous undercover operations over the next two years.
Mr. McDonald served from 1974 to 1982 as a Franklin County Deputy Sheriff. During his time with the Sheriff's Department he served in corrections, patrol, courtroom security and the S.W.A.T. team. While serving with the Sheriff's Department Mr. McDonald was a certified PR-24 baton and Kubaton instructor for law enforcement personnel. He also instructed civilians in the techniques of the Kubaton in a self designed two hour long class entitled "Citizen Survival Course".
Mr. McDonald had also assisted in Officer Street Survival and Anti-Terrorism Courses at the Attorney General's Office, Ohio Peace Officers Training Academy, located in London, Ohio. Most recently he has worked as a licensed Private Investigator from 1998 to 2008 in San Diego, California
While working for Baechler Investigative Services he received several certificates for outstanding accomplishment in specific job related areas.
Other Certifications:
Ohio Peace Officers Training Certificate California Private Investigator License #25231 Member Private Investigators of California Association (P.I.C.A.)
---


Robert E. Colliver
Robert E. "Rick" Colliver

Rick Colliver is the course developer and lead instructor in the Principal Protection program at the Ohio Peace Officer Training Academy and is an adjunct instructor in protective operations through several police, military and academic organizations. He has served as the global security director for two multi-national corporations with operations in 24 time zones, and has managed protection details in Europe, Africa, Asia and the Americas.

A frequent contributor to online media such as bodyguardcareers.com and PoliceLink, Rick also writes for publications such as Tactical Gear and The Operator; The Journal of the Ohio Tactical Officer's Association.

Rick is the co-author and narrator of School Safety and Security; An All-Hazards Approach (http://seem.findlay.edu/products/displaydd84.html?241q7p6vq=EDEE) and a contributing author to Gruber's Physical and Technical Security; An Introduction (Thomson Delmar) (http://www.amazon.com/Physical-Technical-Security-Robert-Gruber/dp/1401850669 ).

Rick is a frequent speaker at industry and professional meetings and has been the Master of Ceremonies for the annual Award of Valor presentation at the Ohio Statehouse since the Ohio Military Hall of Fame's inauguration on July 7, 2000.

Rick received his Bachelor's degree in Criminology from The Ohio State University and has completed graduate work in Organizational Behavior through the University of Phoenix, and Crisis Management through the American Military University. He maintains his law enforcement credentials through the Union County (Ohio) Sheriff's Office, where he continues to serve as a reserve deputy and hostage negotiator. Since 2005, Rick has served on the Public Health and the Critical Infrastructure Protection Advisory Committees for Ohio Homeland Security, Ohio Department of Public Safety.

In addition to his training programs for corporate security and law enforcement audiences, Rick is a Concealed Carry Instructor, holding multiple certifications from the NRA, and is proud to be an affiliate instructor with John Farnam's Defense Training International, with whom he has taught such programs as Advanced Defensive Handgun, Defensive Firearms for Protection Specialists, Crisis Shooting and Urban Rifle/Shotgun.

Throughout his career, he has held certifications as an OPOTA Instructor (1984), CPP (1988), CFE (1989), Rescue SCUBA Diver (1994), EMT (1995), and CHS III (2006). However, he now maintains only one certification in Protective Operations Management, because, as he puts it, "No one likes going to meetings".



---
Principal Protection; Lessons Learned
The Evolution of Protective Operations
by R.E. "Rick" Colliver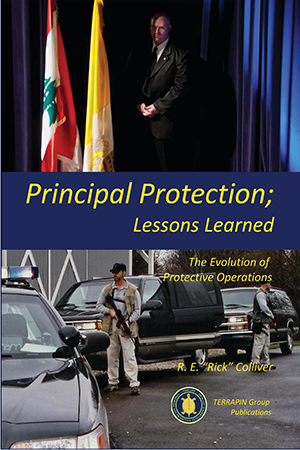 Consulting Contributor
Gary N. Berry