Upcoming Events
Emergency Dispatcher/Call Taker Spanish
On:3/5/2019 to 3/6/2019
Registration Form


PUBLIC SAFETY EMERGENCY DISPATCHER/CALL TAKER FRONT DESK PERSONNEL SPANISH PROGRAM

Alentado Training Consultats, LLC conducts Spanish languge training 33 states with participants that speak little or knowledge of Spanish largnge to native speakers. All of our trained instructors are current or past law enforcement officers to lend credibility to the program and audience. Andrea Alentado Hague renamed Partners in Trainirg Consultants, to Alentado Trainirg Conwltants to honor her father. Jose Alentado, the Founder of In Trainirg Consultants, was the former Progam Manager of the FEDERAL LAW ENFORCEMENT TRAINING CENTER Spanish Progams and has been involved in the developmmt of Spanish training since 1987

COURSE OBJECTIVES This course is designed to familiarize the call-taker with several objectives. Alentado Consultants, LLC uses the instructional methodology founded by Jose Alentado. The students will identify the following: Controlling an incoming call using ATCs "yes or no" and "questions in the answer" System regardless of the amount of Spanish language knowledge possessed by the call-taker.
Determining the service required by the monolingual Spanish speaker: whether the required service is medical, criminal and/or related to a fire.
Sending the required service to the correct location.
Calling callers who either intentionally or unintentionally dialed 911; determining if there is an emergency and advising the caller that the responders are en route.
Determining officer safety by obtaining information from the caller to determine if the offender and/or weapons are still present.
Obtaining preliminary information when the caller requests emergency medical or fire services pertaining to the situation.
Obtain preliminary offense or incident information pertaining to the incident called in and determine suspect description.
When necessary, give information pertaining to location of vehicles which may have been towed or individuals who may have been taken into custody.
NOTE: The Public Safety Emergency Dispatcher/Call-Taker Front Desk Personnel Spanish Program is designed to SAVE YOUR AGENCY MONEY! A very large majority of coming calls are for non-emergency situations. Your personal, upon graduating from this program should be able to handle most incoming calls from Spanish speakers thus reducing your agency's need for expensive language translation services.
Executive Protection for Small Teams
On:5/3/2019 to 5/5/2019
Registration Form


This course is designed for agencies and organizations requiring the ability to effectively safeguard persons facing potential exposure to kidnapping or assassination. This course focuses on training small protective units to recognize serious threats and implement proper countermeasures. Due to the presentation of sensitive information, enrollment is restricted to Law Enforcement, Certified Private Security Personnel, Military and Martial Artists only. Topics include walking and driving formations, disarming tactics, intelligence gathering, threat assessment, advance surveys, close quarters confrontation, and extraction tactics. Course materials include "Principal Protection; Lessons Learned: The Evolution of Protective Operations" by R.E. "Rick" Colliver.
Date:
May 3-5, 2019
Course Duration:
24 hours+
Time:
8:30 a.m. – 5:00 p.m.
Location:
Security Compliance Associates
2727 Ulmerton Rd., Suite 310
Clearwater, FL 33762

Cost:
$450.00/person (before April 15, 2019)(no refunds unless course cancels) $500.00/person (after April 15, 2019)

Make Checks Payable to:
Make Checks Payable to: Tactical Awareness Group, Inc.
Gary Berry
P.O. Box 30184
Washington, DC 20030

Pay Pal:
tagpresident@verizon.net (Call before using)
Instructors:
Actively working protection professionals with an average
of 35 years' experience.
If you have questions, contact Mr. Gary N. Berry at (614) 679-1499.

Principal Protection; Lessons Learned
The Evolution of Protective Operations
by R.E. "Rick" Colliver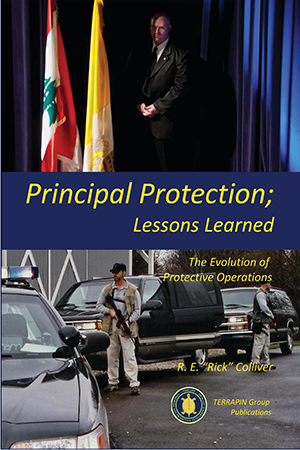 Consulting Contributor
Gary N. Berry