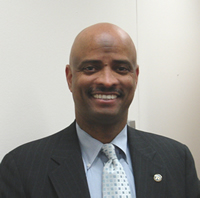 Ben C. Long, a former U.S. Park Police SWAT Counter Sniper/Firearms Instructor, and is currently a federal agent. Protective Services is the unit responsible for the safety and protection of the Office of The Secretary/Deputy Secretary of HUD and any other dignitaries as assigned by the White House.
With a specialty in crowd management. Prior to becoming the Director of PSD, Mr. Long served 16 years as a Officer, and Sergeant, for the "Oldest Uniformed Federal Police Department" in the country, The U.S. Park Police, Washington DC.
Mr. Long initiated his law enforcement career in 1987 after serving four (4) years with the United States Marine Corps (Military Police). A graduated of the FLETC 21 week basic and advance school, Mr. Long embarked on a busy yet rewarding career with USPP. He started out as a patrol office in Southeast Washington, DC (Anacostia Station). At the Anacostia Station, Mr. Long was 1989 Officer of the year, a direct result from accumulating over 140 arrest in the year, recovering a total of 1.5 million dollars worth of stolen vehicles, and after being involved in a critical incident that resulted in the life of one wanted suspect who attempted to take Mr. Long's life in a high speed vehicle pursuit after several shots were fired.
Mr. Long was selected to join the USPP elite SWAT team in 1990. On the SWAT team, Mr. Long was country's first Counter Sniper trained to do was is now know as "medical remote assessment across the barricade", a procedure used to advise the teams command element the medical condition of the hostage in a barricade or other hostile environments through the spotter or his own rifle scope.
Mr. Long is also a Counter Narcotics Tactical Operations Medical Support (CONTOMS) trained EMT-Tactical Medic and Faculty Instructor for the Casualty Care Research Center, Bethesda Naval Hospital.
Mr. Long is a graduated of the FBI Basic and Advanced Sniper Schools, at Quantico, VA., the Baltimore County Police Sniper School, and the USMC Scout Sniper Instructor School, also in Quantico, VA. He and his Spotter were the first "northern team" to compete in the now famous "Sniper Craft" sniper competition in Florida, and now California. The unit placed a respectable 5th place in the taxing competition that is represented by teams from the Navy Seals, Army Green Berets, to police teams from LAPD SWAT and Miami-Dade SWAT.
Mr. Long is married and has three children, ages ranging from 15-25. An avid home audio enthusiast, Mr. Long spends his off time "tweaking" his two home theaters.