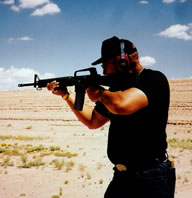 Cpt. Brian C. Smith joined the Chicago Heights Police Department in 1978 and served in Patrol Division, Investigations, Range Master and currently serving as Commander of Training and the Special Operations Unit. Also, services Training Director for Steiner Security Services in Chicago.
Captain Smith formed, trained and commanded the first Special Operations Unit which started in 1995 a position which he still holds, which also is utilized to assist other Agencies in the surrounding metropolitan area of Chicago. This unit also assisted local, state and federal agencies in street gang and Narcotic suppression. He has trained approximately 6000 personnel in all levels of law enforcement on topics such as Tactical Team Operations, Defensive Tactics, Firearms and Officer Survival. He also served as a guest instructor at the Ohio Peace Officers Academy, Cook County Sheriff's Academy and several annual law enforcement training conferences.
Captain Smith has published approximately 45 articles on police training related that has appeared in publications such as SWAT, Combat Handguns, Gun & Weapons for Law Enforcement, Police Times and American Police Beat magazines.
Captain Smith has earned an Associates Degree in Law Enforcement from The Thornton Community College in South Holland, IL, a graduate of the Chicago Police Academy, and graduated from the 184th session of the FBI National Academy. He is a certified Law Enforcement Trainer by American Society of Law Enforcement Training and chairman of the Police Survival Tactics Committee of the American Federation of Police.