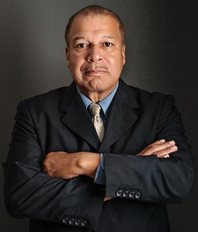 Gary N. Berry, President of T.A.G.
Gary Berry, President of Tactical Awareness Group, Inc. (TAG), offers his clients the benefits of more than 40 years of professional experience and technical field exposure as an instructor, trainer and criminal investigator in federal, state and local law enforcement. After 26 years of federal service as a criminal investigator, Mr. Berry retired as the Acting Director, U.S. Department of Housing and Urban Development, Protective Services Division. As Acting Director, Mr. Berry oversaw the daily operations for the protection of the Secretary and Deputy Secretary of the U.S. Department of Housing and Urban Development and their families, both domestically and internationally. Mr. Berry's areas of experience include private and corporate security, protection against danger and loss, as well as personal and environmental safety for high profile individuals at the federal, state and local levels. Mr. Berry's diverse background in criminal investigations, undercover operations, crowd management, and dignitary and high-profile protection is balanced with an exceptional skill set that ensures personal and environmental safety. Mr. Berry is proficient in criminal and civil law and procedure, enforcement operations, physical techniques, and technical equipment. He is recognized as a specialist in his field and is consulted and retained to provide expert testimony on behalf of law enforcement agencies in the areas of "use or force" and undercover operations.
Mr. Berry possesses numerous instructor accreditations from federal, state and local law enforcement agencies. He holds instructor/trainer certification from the Peace Officers Training Academy (POTA) in London, Ohio, which is accredited by the Commission on Accreditation for Law Enforcement Agencies and is acclaimed as one of the best law enforcement training institutions in the nation. Mr. Berry is also certified as an instructor at the Federal Law Enforcement Training Center (FLETC), now a division of the Department of Homeland Security, in Glynco, Georgia. FLETC specializes in providing expert training and technology-based learning, including simulation and modeling, to enhance existing training delivery systems and methodologies.
Mr. Berry has been a supervisor at POTA and continues to provide instruction in advanced defensive unarmed tactics, batons, defensive driving, Ohio liquor laws, vice drug identification, and in undercover operations. He has trained over 5,000 state, county and local officers for the Ohio Attorney General's Office. Mr. Berry is also a former senior instructor and trainer at FLETC and periodically provides course development and instruction in unarmed defensive tactics, close quarter combat, extendable baton, PR-24 baton, handcuffing, vehicle stops and extractions, crime scene investigations, fingerprint classifications, safety and survival, drug identification, sequential drug testing, and undercover operations. Mr. Berry has trained more than 8,000 federal law enforcement officers attending the agency. In collaboration with other TAG experts, Mr. Berry designs courses in executive protection and undercover operations.
As a specialized law enforcement instructor, Mr. Berry customizes courses and services to cater to individual client needs, inclusive of executive and high-profile personal protection services. His services not only incorporate industry standards of personal safety presented in a number of scenarios, but also implement techniques and methodologies to ensure personal safety and protection. Noteworthy among his courses is the "Street Simulation Tactics" course which he developed to address individual safety of auditors employed by the Office of the Inspector General for Audit in the U.S. Department of Housing and Urban Development. Since its creation, Street Simulation Tactics has been tailored to accommodate the ever evolving civilian/corporate population. Mr. Berry's clients currently include companies in real estate, sporting events, celebrity/high-profile protective services, and others who need crowd control for large populations.
Mr. Berry's extensive experience and field expertise ensures that clients benefit from a high level of professionally designed and carefully implemented intelligence measures that enhance an environment of protection and precaution from hostile acts or influences.
Other Certifications:
Executive Protection Instructor/Trainer (certified by various agencies, including State of Ohio, U.S. Secret Service, FBI, U.S. Marshals, and Tactical Awareness Group Inc. – Columbus, Ohio)
Tactical Entry Operations Instructor/Trainer (certified by U.S. Drug Enforcement Administration – Quantico, Virginia)
Extendable Baton and PR-24 standard and extendable baton Instructor/Trainer
Simunition Supervisor/Trainer (certified by Simunition – Avon, Connecticut)
Close Quarter Combat Instructor/Trainer (certified by Metropolitan Police Self Defense Institute – Chicago Heights, Illinois)
Oleoresin Capsicum Aerosol Spray Instructor/Trainer (certified by Law Enforcement Concepts Inc. – San Diego, California and Dayton, Ohio)
Tactical Simulation Instructor/Trainer (certified by Tactical Awareness Group, Inc. –Columbus, Ohio)
8th Degree Black Belt in Shorin-Ruy Karate
2nd Degree Black Belt in Ha kyu-Ryu JuJitsu
1st Degree Black Belt in Kodokan Judo
Viet Nam veteran USMC