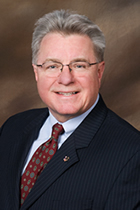 Robert E. "Rick" Colliver is the course developer and lead instructor in the Principal Protection program at the Ohio Peace Officer Training Academy and is an adjunct instructor in protective operations through several police, military and academic organizations. He has served as the global security director for two multi-national corporations with operations in 24 time zones, and has managed protection details in Europe, Africa, Asia and the Americas.
A frequent contributor to online media such as bodyguardcareers.com and PoliceLink, Rick also writes for publications such as Tactical Gear and The Operator; The Journal of the Ohio Tactical Officer's Association.
Rick is the co-author and narrator of School Safety and Security; An All-Hazards Approach (http://seem.findlay.edu/products/displaydd84.html?241q7p6vq=EDEE) and a contributing author to Gruber's Physical and Technical Security; An Introduction (Thomson Delmar) (http://www.amazon.com/Physical-Technical-Security-Robert-Gruber/dp/1401850669 ).
Rick is a frequent speaker at industry and professional meetings and has been the Master of Ceremonies for the annual Award of Valor presentation at the Ohio Statehouse since the Ohio Military Hall of Fame's inauguration on July 7, 2000.
Rick received his Bachelor's degree in Criminology from The Ohio State University and has completed graduate work in Organizational Behavior through the University of Phoenix, and Crisis Management through the American Military University. He maintains his law enforcement credentials through the Union County (Ohio) Sheriff's Office, where he continues to serve as a reserve deputy and hostage negotiator. Since 2005, Rick has served on the Public Health and the Critical Infrastructure Protection Advisory Committees for Ohio Homeland Security, Ohio Department of Public Safety.
In addition to his training programs for corporate security and law enforcement audiences, Rick is a Concealed Carry Instructor, holding multiple certifications from the NRA, and is proud to be an affiliate instructor with John Farnam's Defense Training International, with whom he has taught such programs as Advanced Defensive Handgun, Defensive Firearms for Protection Specialists, Crisis Shooting and Urban Rifle/Shotgun.
Throughout his career, he has held certifications as an OPOTA Instructor (1984), CPP (1988), CFE (1989), Rescue SCUBA Diver (1994), EMT (1995), and CHS III (2006). However, he now maintains only one certification in Protective Operations Management, because, as he puts it, "No one likes going to meetings".